Plant Design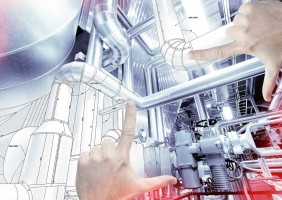 Globalization of markets, new technologies, increasing process automation
businesses aiming to secure their competitiveness and ensure future-oriented productions need to develop plant concepts that meet all present and future challenges.
Central points in this respect are:
increase of overall productivity
reduction of throughput times and stocks
reduction of manufacturing costs by improving manufacturing performance
ensuring flexibility of processes and quantities
Whether planning of new plants or optimization of existing production facilities: we
analyze and define plant dimensions
plan and optimize process flows
develop new solutions and individual concepts that respond flexibly to changing requirements and the dynamic environment specific for this sector
Not only do we look about your current goals but we also bear in mind your longterm corporate objectives.
From planning to assembly, installation, commissioning and maintenance of process plants and equipment our interdisciplinary project teams can draw upon many years of experience and gladly provide their know-how and expertise to your support and benefit.